Are There Going to Be More Homes to Buy This Year?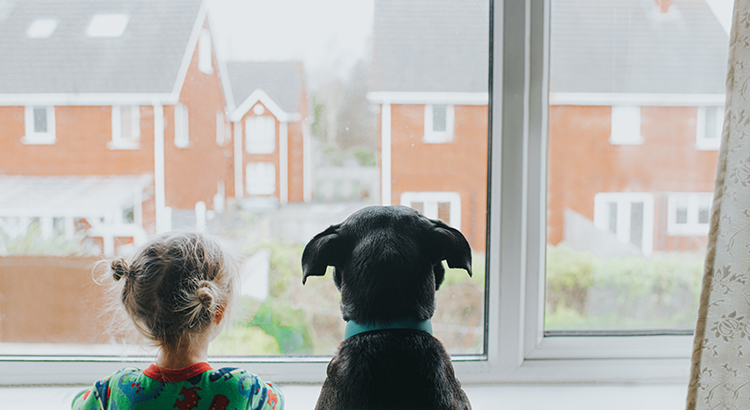 If you're looking for a home to purchase right now and having trouble finding one, you're not alone. At a time like this when there are so few houses for sale, it's normal to wonder if you'll actually find one to buy. According to the National Association of Realtors (NAR), across the country, inventory of available homes for sale is at an all-time low – the lowest point recorded since NAR began tracking this metric in 1982. There are, however, more homes expected to hit the market later this year. Let's break down the three key places they'll likely come from as 2021 continues on.
1. Homeowners Who Didn't Sell Last Year
In 2020, many sellers decided to pause their moving plans for a number of different reasons. From health concerns about the pandemic to financial uncertainty, plenty of homeowners decided not to move last year.
Now that vaccines are being distributed and there's a light at the end of the COVID-19 tunnel, it should bring some peace of mind to many potential sellers. As Danielle Hale, Chief Economist at realtor.com, notes:
"Fortunately for would-be homebuyers, we expect sellers to return to the market as we see improvement in the economy and progress against the coronavirus."
Many of the homeowners who decided not to sell in 2020 will enter the market later this year as they begin to feel more comfortable showing their house in person, understanding their financial situation, and simply having more security in life.
2. More New Homes Will Be Built
Last year was a strong year for home builders, and according to the National Association of Home Builders (NAHB), 2021 is expected to be even better:
"For 2021, NAHB expects ongoing growth for single-family construction. It will be the first year for which total single-family construction will exceed 1 million starts since the Great Recession."
With more houses being built in many markets around the country, homeowners looking for new houses that meet their changing needs will be able to move into their dream homes. When they sell their current houses, this will create opportunities for those looking to find a home that's already built to do so. It sets a simple chain reaction in motion for hopeful buyers.
3. Those Impacted Financially by the Economic Crisis
Many experts don't anticipate a large wave of foreclosures coming to the market, given the forbearance options afforded to current homeowners throughout the pandemic. Some homeowners who have been impacted economically will, however, need to move this year. There are also homeowners who didn't take advantage of the forbearance option or were already in a foreclosure situation before the pandemic began. In those cases, homeowners may decide to sell their houses instead of going into the foreclosure process, especially given the equity in homes today. Lawrence Yun, Chief Economist at NAR, explains:
"Given the huge price gains recently, I don't think many homes will have to go to foreclosure…I think homes will just be sold, and there will be cash left over for the seller, even in a distressed situation. So that's a bit of a silver lining in that we don't expect a massive sale of distressed properties."
As we can see, it looks like we're going to have an increase in the number of homes for sale in 2021. With fears of the pandemic starting to ease, new homes being built, and more listings coming to the market prior to foreclosure, there's hope if you're planning to buy this year. And if you're thinking of selling and making a move, doing so while demand for your house is high might create an outstanding move-up option for you.
Bottom Line
Housing demand is high and supply is low, so if you're thinking of moving, it's a great time to do so. There are likely many buyers who are looking for a home just like yours, and there are options coming for you to find a new house too. Let's connect today to see how you can benefit from the opportunities available in our local market.
What Record-Low Housing Inventory Means for You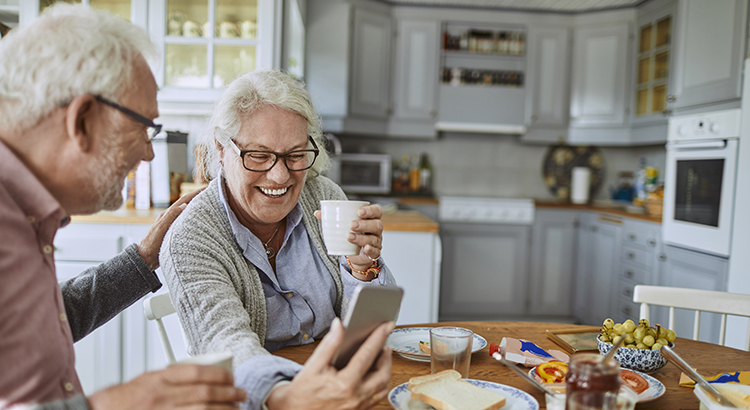 The real estate market is expected to do very well in 2021, with mortgage rates that are hovering at historic lows and forecasted by experts to remain favorable throughout the year. One challenge to the housing industry, however, is the lack of homes available for sale today. Last week, the National Association of Realtors (NAR) released their Existing Home Sales Report, which shows that the inventory of homes for sale is currently at an all-time low. The report explains:
"Total housing inventory at the end of December totaled 1.07 million units, down 16.4% from November and down 23% from one year ago (1.39 million). Unsold inventory sits at an all-time low 1.9-month supply at the current sales pace, down from 2.3 months in November and down from the 3.0-month figure recorded in December 2019. NAR first began tracking the single-family home supply in 1982."
(See graph below):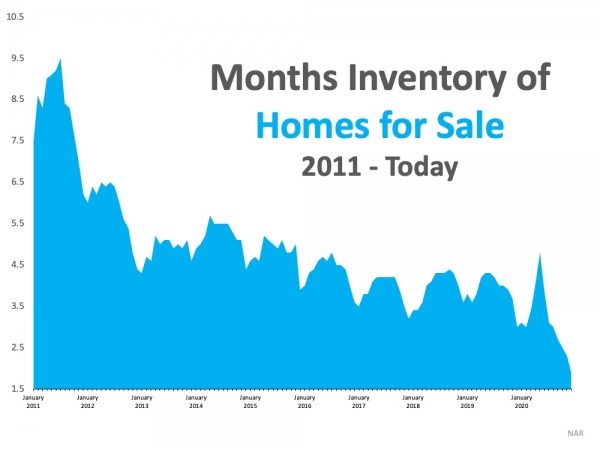 What Does This Mean for You?
If You're a Buyer:
Be patient during your home search. It may take time to find a home you love. Once you do, however, be ready to move forward quickly. Get pre-approved for a mortgage, be prepared to make a competitive offer from the start, and know that a shortage in inventory could mean you'll enter a bidding war. Calculate just how far you're willing to go to secure a home and lean on your real estate professional as an expert guide along the way. The good news is, more inventory is likely headed to the market soon, Lawrence Yun, Chief Economist at NAR, notes:
"To their credit, homebuilders and construction companies have increased efforts to build, with housing starts hitting an annual rate of near 1.7 million in December, with more focus on single-family homes…However, it will take vigorous new home construction in 2021 and in 2022 to adequately furnish the market to properly meet the demand."
If You're a Seller:
Realize that, in some ways, you're in the driver's seat. When there's a shortage of an item at the same time there's a strong demand for it, the seller is in a good position to negotiate the best possible terms. Whether it's the price, moving date, possible repairs, or anything else, you'll be able to request more from a potential purchaser at a time like this – especially if you have multiple interested buyers. Don't be unreasonable, but understand you probably have the upper hand.
Bottom Line
The housing market will remain strong throughout 2021. Know what that means for you, whether you're buying, selling, or doing both.
Want to Build Wealth? Buy a Home This Year.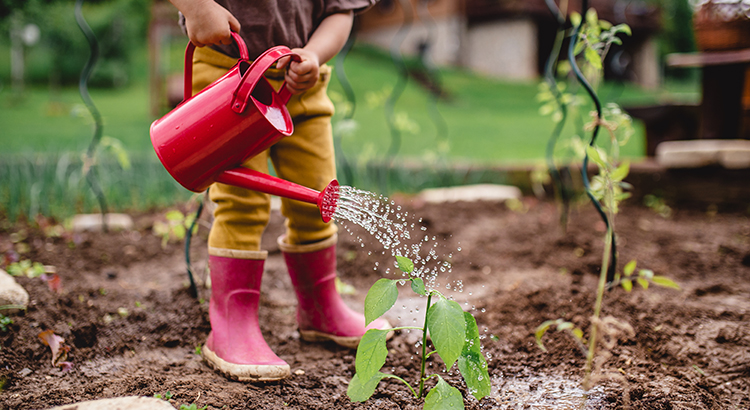 Every year, households across the country make the decision to rent for another year or take the leap into homeownership. They look at their earnings and savings and then decide what makes the most financial sense. That equation will most likely take into consideration monthly housing costs, tax advantages, and other incremental expenses. Using these measurements, recent studies show that it's still more affordable to own than rent in most of the country.
There is, however, another financial advantage to owning a home that's often forgotten in the analysis – the wealth built through equity when you own a home.
Odeta Kushi, Deputy Chief Economist for First American, discusses this point in a recent blog post. She explains:
"Once you include the equity benefit of price appreciation, owning made more financial sense than renting in 48 out of the 50 top markets, with the only exceptions being San Francisco and San Jose, Calif."
What has this equity piece meant to homeowners in the past?
ATTOM Data Solutions, the curator of one of the nation's premier property databases, just analyzed the typical home-price gain owners nationwide enjoyed when they sold their homes. Here's a breakdown of their findings: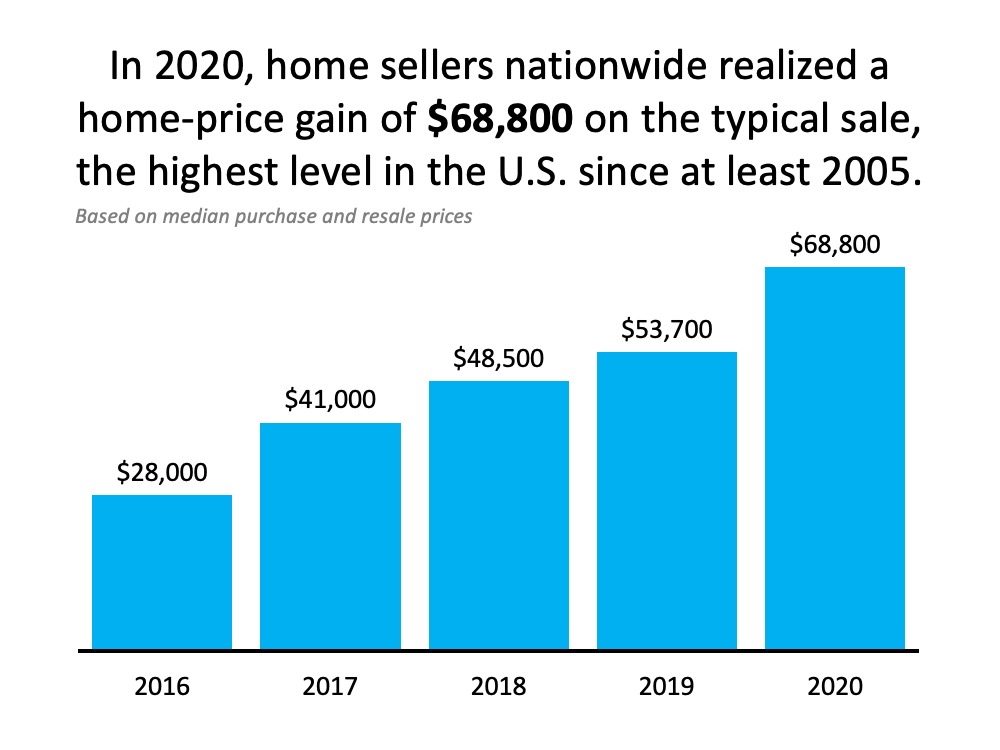 The typical gain in the sale of the home (equity) has increased significantly over the last five years.
CoreLogic, another property data curator, also weighed in on the subject. According to their latest Homeowner Equity Insights Report, the average homeowner gained $17,000 in equity in just the last year alone.
What does the future look like for homeowners when it comes to equity?
Here are the seven major home price appreciation forecasts for 2021: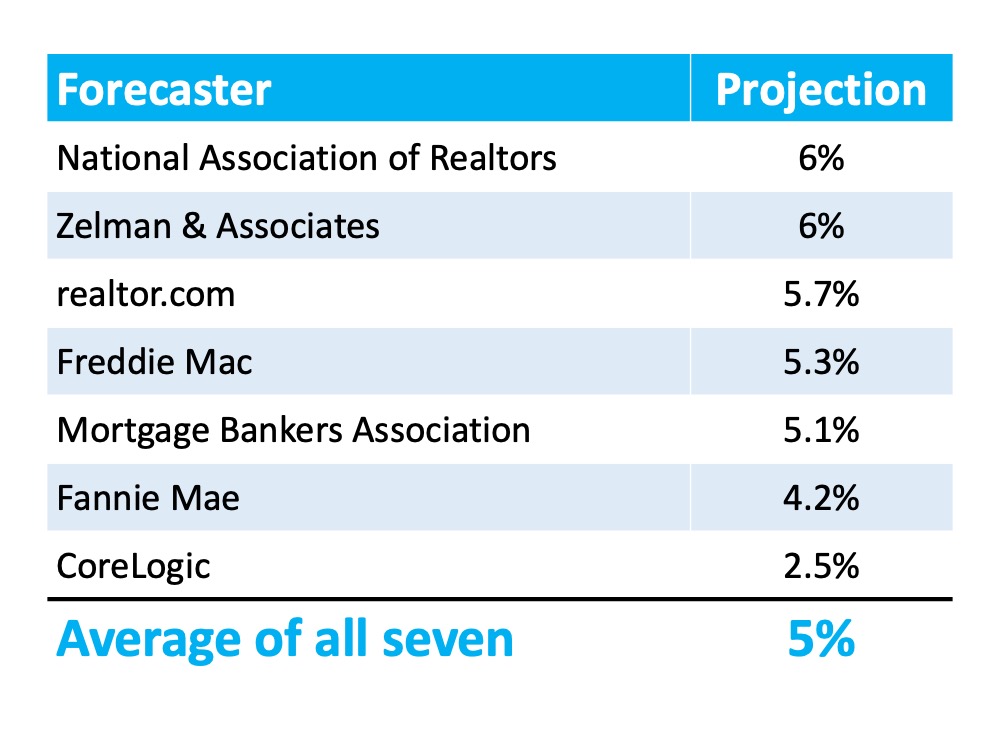 The National Association of Realtors (NAR) just reported that today, the median-priced home in the country sells for $309,800. If homes appreciate by 5% this year (the average of the forecasts), the homeowner will increase their wealth by $15,490 in 2021 through increased equity.
Bottom Line
As you make your plans for the coming year, be sure to consider the equity benefits of home price appreciation as you weigh the financial advantages of buying over renting. When you do, you may find this is the perfect time to jump into homeownership.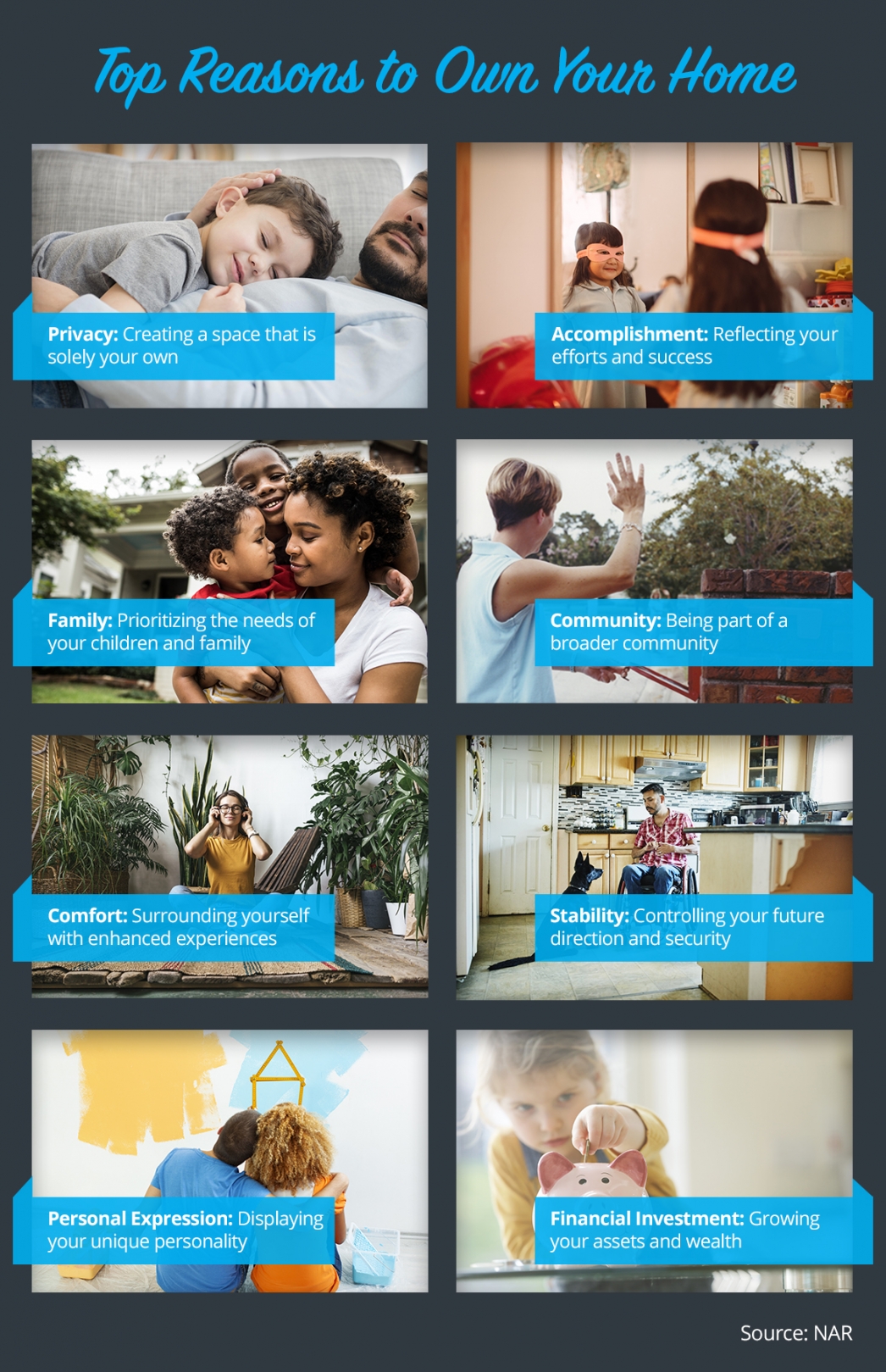 Some Highlights
June is National Homeownership Month, and it's a great time to consider the benefits of owning your own home.
If you're in a position to buy, homeownership might help you find the stability, community, and comfort you've been searching for this year.
Let's connect today to determine if homeownership is the right next step for you and your family.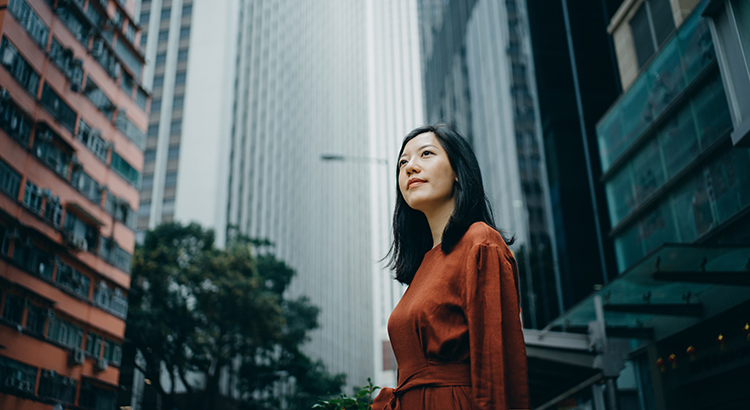 With the U.S. economy on everyone's minds right now, questions about the country's financial outlook continue to come up daily. The one that seems to keep rising to the top is: when will the economy begin to recover? While no one knows exactly how a rebound will play out, expert economists around the country are becoming more aligned on when the recovery will begin.
According to the latest Wall Street Journal Economic Forecasting Survey, which polls more than 60 economists on a monthly basis, 85.3% believe a recovery will begin in the second half of 2020 (see graph below):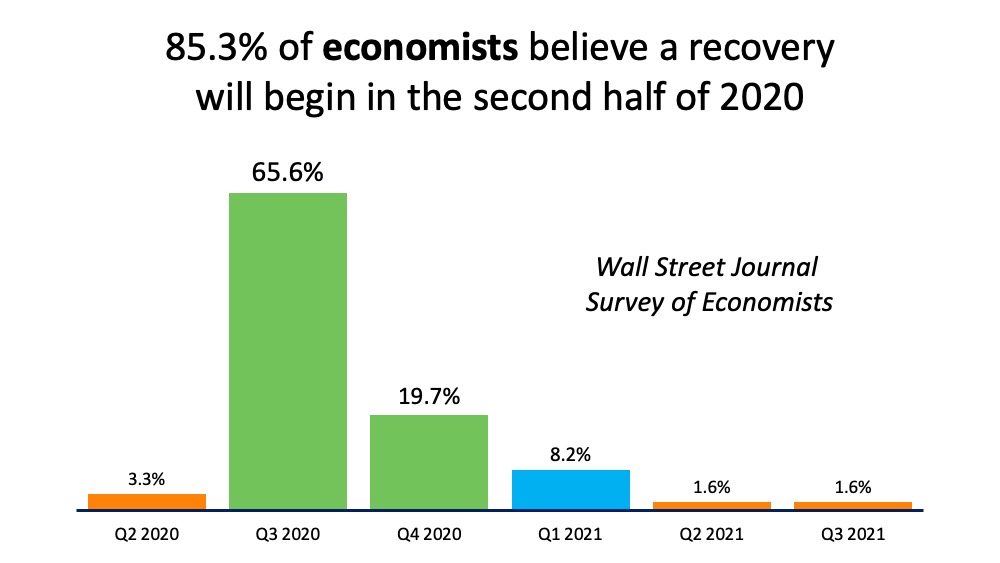 There seems to be a growing consensus among these experts that the second half of this year will be the start of a turnaround in this country.
Chris Hyzy, Chief Investment Officer for Merrill notes:
"We fully expect the economy could begin to pick up in late June and July with a strong recovery in the fourth quarter." 
In addition, five of the major financial institutions are also forecasting positive GDP in the second half of the year. Today, four of the five expect a recovery to begin in the third quarter of 2020, and all five agree a recovery should start by the fourth quarter (see graph below):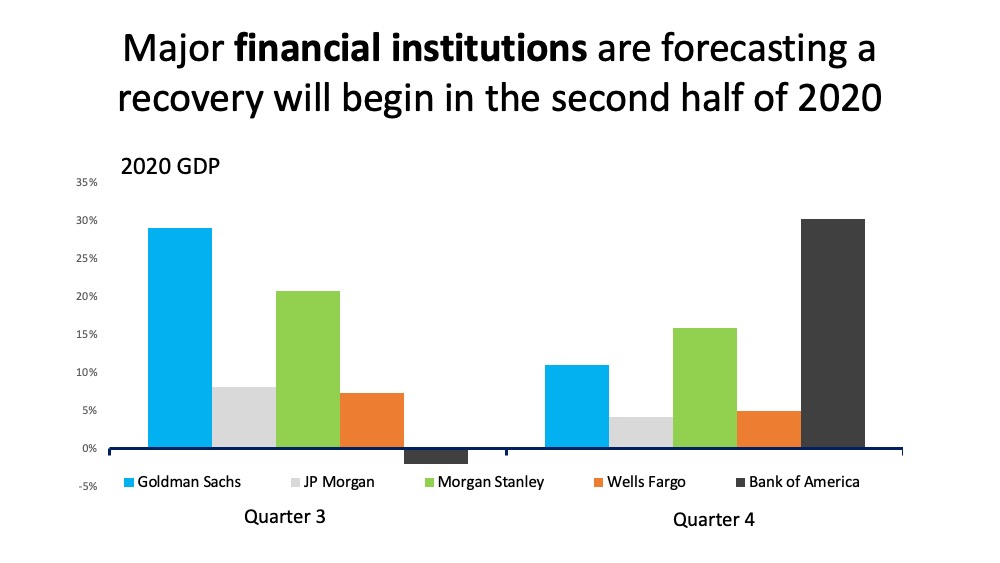 Bottom Line
The vast majority of economists, analysts, and financial institutions are in unison, indicating an economic recovery should begin in the second half of 2020. Agreement among these leading experts is stronger than ever.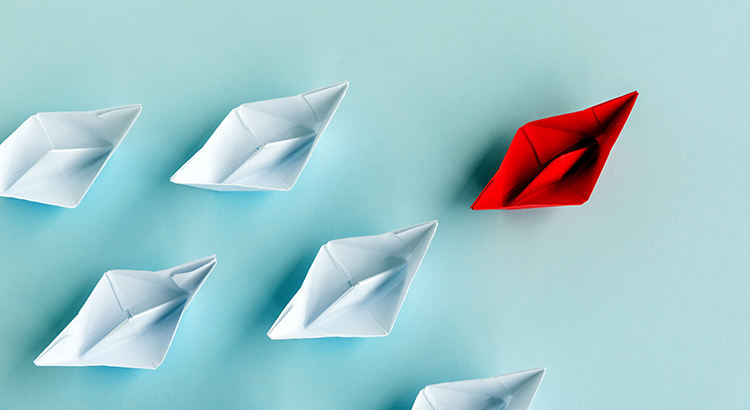 With more U.S. states reopening for business this summer, and as people start to return to work, we can expect the economy to begin improving. Most expert forecasts indicate this economic recovery will start to happen in the second half of this year. As we get back to work and the financial landscape of the country begins to turn around, many experts also agree that real estate has the potential to lead the way in the recovery process.
According to Ivy Zelman of Zelman & Associates:
 "Housing will fare better than expected during this severe downturn."
In addition, CNBC notes:
"Mortgage demand from home buyers shows unexpectedly strong and quick recovery…The quick recovery has surprised most forecasters."
Robert Dietz, Chief Economist and Senior Vice President for Economics and Housing Policy of the National Association of Home Builders (NAHB) says:
"Overall, the data lend evidence to the NAHB forecast that housing will be a leading sector in an eventual economic recovery."
One of the big reasons why housing has the potential to be such a driving force is the significant impact it has on the local economy. This impact is particularly strong when a newly constructed home is built and sold. According to a recent study by the National Association of Realtors (NAR), the average new home sale has a total economic impact of $88,416. As outlined in the graphic below, this is a combination of income generated from real estate industries, expenditures, and new home construction.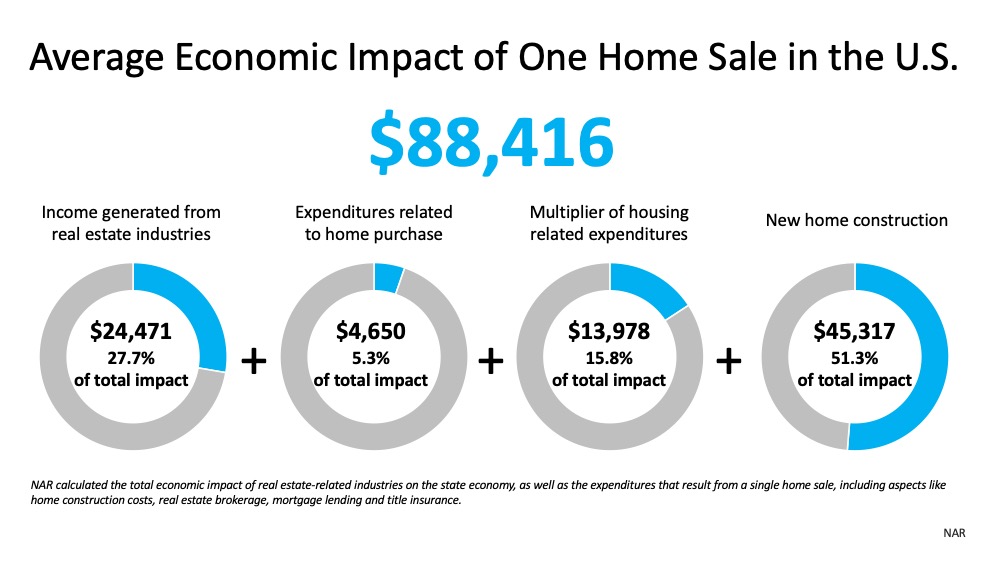 With so many unknowns today, especially in the wake of a worldwide pandemic, one known factor is the bright spark the housing market can play in local and national recovery. Buying and selling a home goes well beyond personal growth and satisfaction – it supports our economy as a whole.
Bottom Line
According to experts, the economy will begin to recover in the second half of this year. With real estate as a driver, that recovery may start sooner than we think.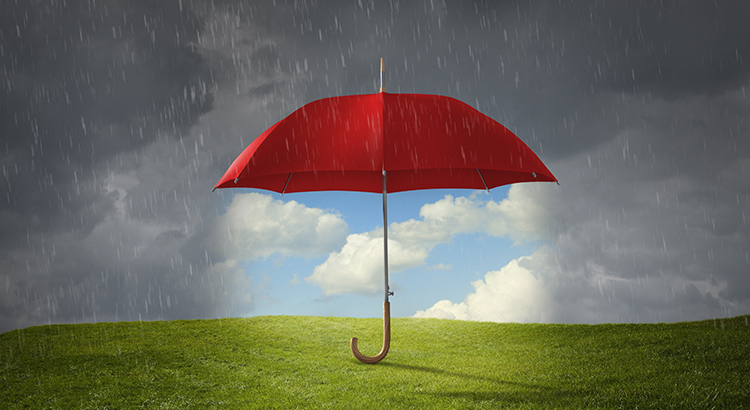 On Monday, the National Bureau of Economic Research (NBER) announced that the U.S. economy is officially in a recession. This did not come as a surprise to many, as the Bureau defines a recession this way:
"A recession is a significant decline in economic activity spread across the economy, normally visible in production, employment, and other indicators. A recession begins when the economy reaches a peak of economic activity and ends when the economy reaches its trough. Between trough and peak, the economy is in an expansion."
Everyone realizes that the pandemic shut down the country earlier this year, causing a "significant decline in economic activity."
Though not surprising, headlines announcing the country is in a recession will cause consumers to remember the devastating impact the last recession had on the housing market just over a decade ago.
The real estate market, however, is in a totally different position than it was then. As Mark Fleming, Chief Economist at First American, explained:
"Many still bear scars from the Great Recession and may expect the housing market to follow a similar trajectory in response to the coronavirus outbreak. But, there are distinct differences that indicate the housing market may follow a much different path. While housing led the recession in 2008-2009, this time it may be poised to bring us out of it."
Four major differences in today's real estate market are:
We must also realize that a recession does not mean a housing crash will follow.  In three of the four previous recessions prior to 2008, home values increased. In the other one, home prices depreciated by only 1.9%.
Bottom Line
Yes, we are now officially in a recession. However, unlike 2008, this time the housing industry is in much better shape to weather the storm.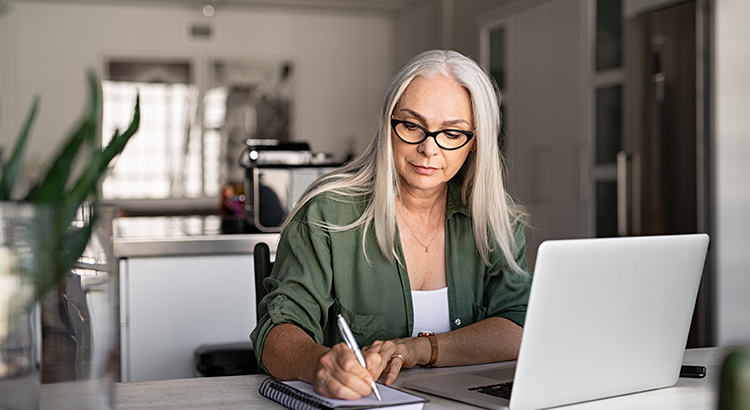 Through all the volatility in the economy right now, some have put their search for a home on hold, yet others have not. According to ShowingTime, the real estate industry's leading showing management technology provider, buyers have started to reappear over the last several weeks. In the latest report, they revealed:
"The March ShowingTime Showing Index® recorded the first nationwide drop in showing traffic in eight months as communities responded to COVID-19. Early April data show signs of an upswing, however."
Why would people be setting appointments to look at prospective homes when the process of purchasing a home has become more difficult with shelter-in-place orders throughout the country?
Here are three reasons for this uptick in activity:
1. Some people need to move. Whether because of a death in the family, a new birth, divorce, financial hardship, or a job transfer, some families need to make a move as quickly as possible.
2. Real estate agents across the country have become very innovative, utilizing technology that allows purchasers to virtually:
View homes
Meet with mortgage professionals
Consult with their agent throughout the process
All of this can happen within the required safety protocols, so real estate professionals are continuing to help families make important moves.
3. Buyers understand that mortgage rates are a key component when determining their monthly mortgage payments. Mortgage interest rates are very close to all-time lows and afford today's purchaser the opportunity to save tens of thousands of dollars over the lifetime of the loan.
Looking closely at the third reason, we can see that there's a big difference between purchasing a house last December and purchasing one now (see chart below):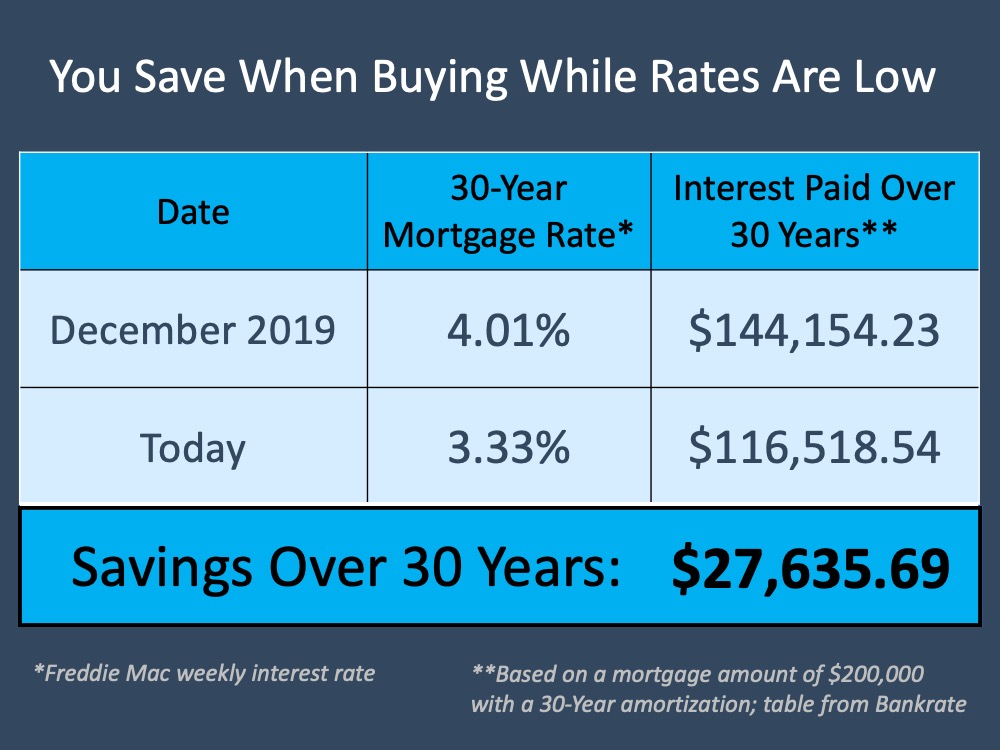 Bottom Line
Many families have decided not to postpone their plans to purchase a home, even in these difficult times. If you need to make a move, let's connect today so you have a trusted advisor to safely and professionally guide you through the process.
A big challenge facing the housing industry is determining what impact the current pandemic may have on home values. Some buyers are hoping for major price reductions because the health crisis is straining the economy.
The price of any item, however, is determined by supply and demand, which is how many items are available in relation to how many consumers want to buy that item.
In residential real estate, the measurement used to decipher that ratio is called months supply of inventory. A normal market would have 6-7 months of inventory. Anything over seven months would be considered a buyers' market, with downward pressure on prices. Anything under six months would indicate a sellers' market, which would put upward pressure on prices.
Going into March of this year, the supply stood at three months – a strong seller's market. While buyer demand has decreased rather dramatically during the pandemic, the number of homes on the market has also decreased. The recently released Existing Home Sales Report from the National Association of Realtors (NAR) revealed we currently have 3.4 months of inventory. This means homes should maintain their value during the pandemic.
This information is consistent with the research completed by John Burns Real Estate Consulting, which recently reported:
"Historical analysis showed us that pandemics are usually V-shaped (sharp recessions that recover quickly enough to provide little damage to home prices)."
What are the experts saying?
Here's a look at what some experts recently reported on the matter:
Ivy Zelman, President, Zelman & Associates
"Supported by our analysis of home price dynamics through cycles and other periods of economic and housing disruption, we expect home price appreciation to decelerate from current levels in 2020, though easily remain in positive territory year over year given the beneficial factors of record-low inventories & a historically-low interest rate environment."
"The fiscal stimulus provided by the CARES Act will mute the impact that the economic shock has on house prices. Additionally, forbearance and foreclosure mitigation programs will limit the fire sale contagion effect on house prices. We forecast house prices to fall 0.5 percentage points over the next four quarters. Two forces prevent a collapse in house prices. First, as we indicated in our earlier research report, U.S. housing markets face a large supply deficit. Second, population growth and pent up household formations provide a tailwind to housing demand. Price growth accelerates back towards a long-run trend of between 2 and 3% per year."
Mark Fleming, Chief Economist, First American
"The housing supply remains at historically low levels, so house price growth is likely to slow, but it's unlikely to go negative."
Bottom Line
Even though the economy has been placed on pause, it appears home prices will remain steady throughout the pandemic.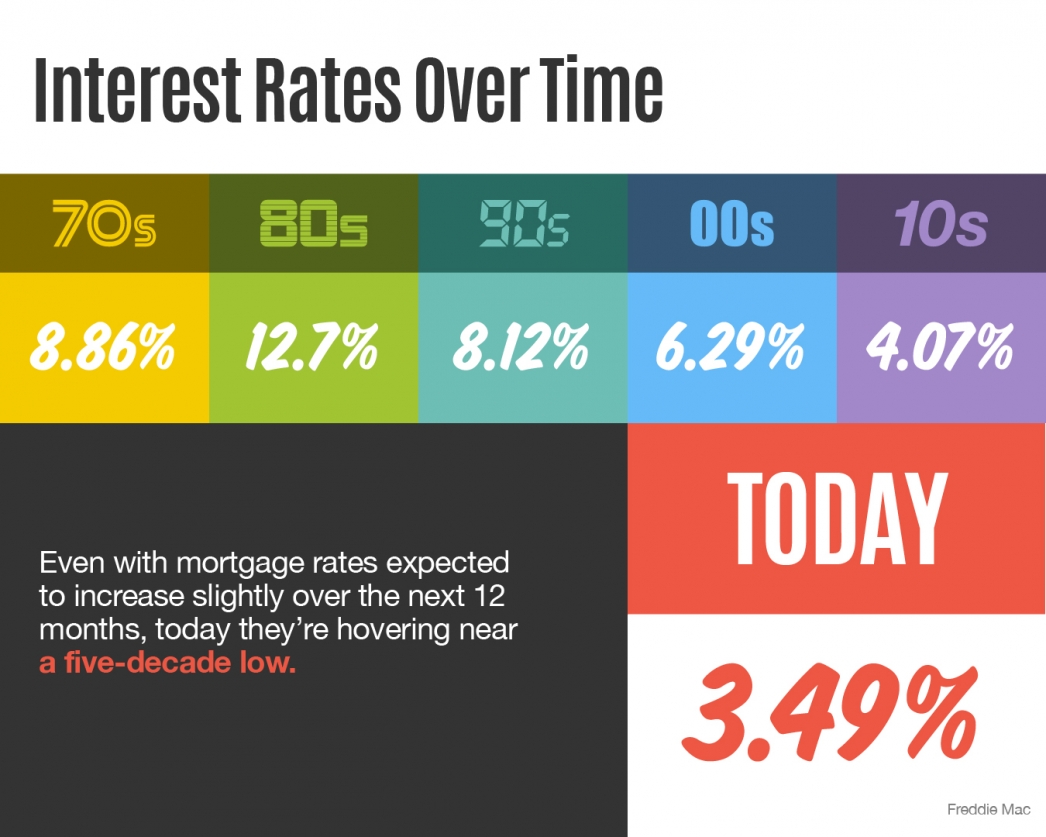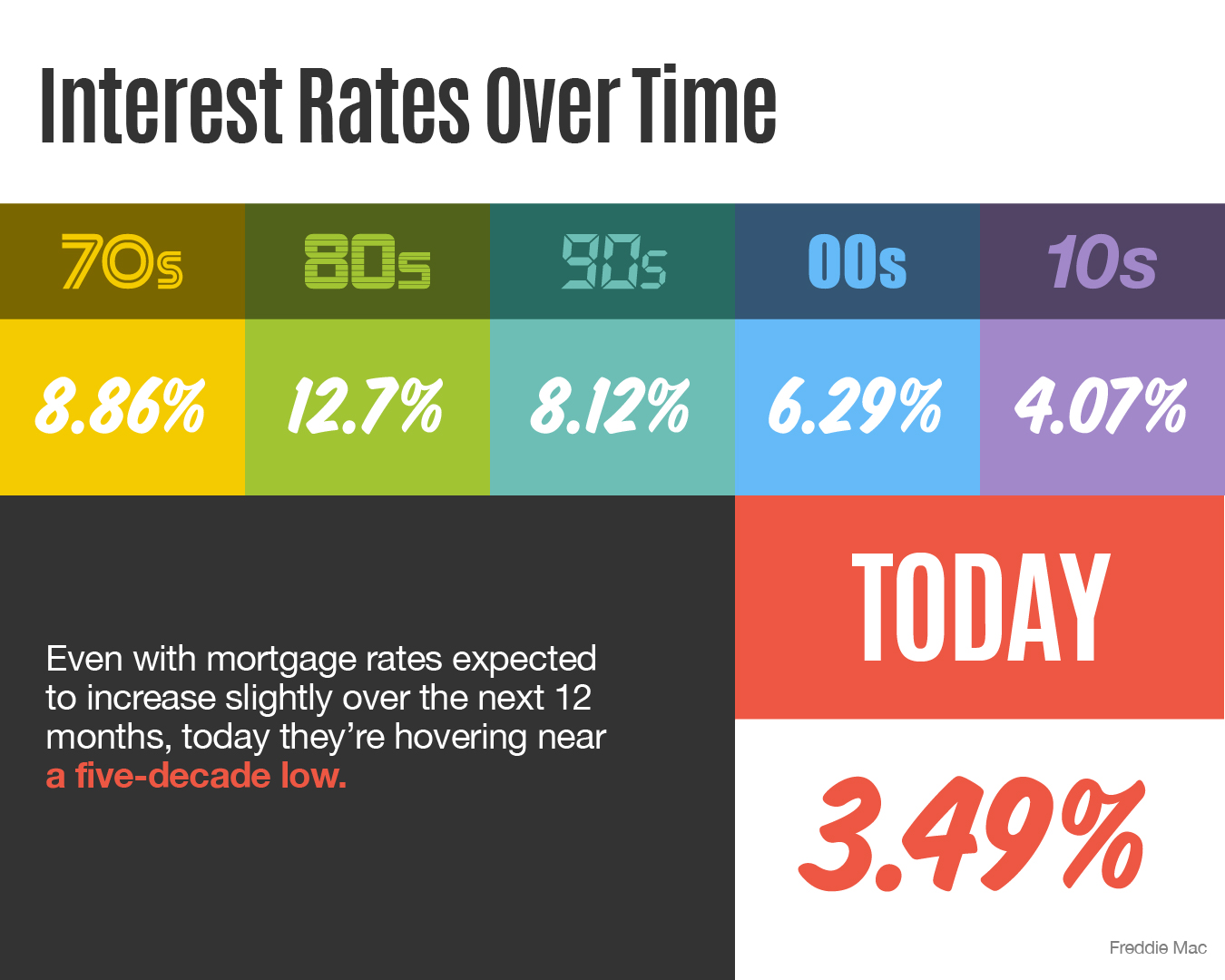 Some Highlights:
With interest rates hovering at near historic lows, now is a great time to look back at where they've been, and how much they've changed over time.
According to Freddie Mac, mortgage interest rates are currently hovering near a five-decade low.
The impact your interest rate has on your monthly mortgage payment is significant. An increase of just $20 dollars in your monthly payment can add up to $240 per year or $7,200 over the life of your loan. Maybe it's time to lock in now while rates are still low.